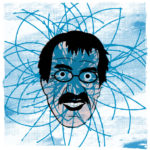 APPEC Elects Chair and General Secretary
9 January 2015
On January 9, 2015 the General Assembly of the Astroparticle Physics European Consortium, APPEC1, elected Frank Linde (director of Nikhef2 from 2004 to 2014) as its new Chair. He is taking over from Stavros Katsanevas (director of APC3), who was chairing APPEC since November 2012. Thomas Berghöfer (DESY4) was reappointed as General Secretary. Both appointments will be effective for the coming two years.
The new Chair Frank Linde said: "Astroparticle physics addresses incredibly tantalizing and fundamental scientific questions. A top priority for me will be to get the large observatories in particular for multi-messenger studies really on track i.e. funded with a realistic spending profile taking into account exploitation costs. From APPEC's perspective we would also benefit from a stronger CERN involvement by learning from CERN's very professional project review mechanisms as well as by hopefully attracting some of CERN's resources to astroparticle physics e.g. for R&D activities". Frank Linde thanked Stavros Katsanevas for his dedicated work in leading the APPEC consortium and his enthusiastic impact in forming the astroparticle physics community in Europe during his mandate.
Stavros Katsanevas summarized: "The first years of the APPEC Consortium taking over from the EU funded ASPERA5 ERANET have been quite active and formative. Highlights of our activity have been the effort to coordinate the community in view of Horizon 2020, the roadmap update and our policy contributions to the European Particle Physics Roadmap as well as the P5 process in the USA, the preparation of the triggering events and accompanying measures of the globalisation process in the neutrino sector and the development of closer relationships with the astrophysics and particle physics communities (ERANET ASTRONET6, ECFA7) and the international centres (ESO, CERN). I personally had great pleasure to collaborate during these last years with the heads of agencies forming APPEC, Janet Seed (STFC) the Vice-Chair of APPEC, Thomas Berghöfer the General Secretary, Antonio Masiero (INFN) the head of the APPEC Scientific Advisory Committee, and of course the members of the APPEC functional centres."
The APPEC consortium currently comprises funding agencies from 14 European countries and ESO as an observer. Thomas Berghöfer reported that negotiations are going on to enlarge the consortium by partners from Armenia, Austria, Bulgaria, Czech Republic, Estonia, Finland and Portugal.
Since the launch of APPEC in June 2012, the consortium coordinates towards the next generation of research infrastructures defined in its roadmap, including high energy multi-messenger observatories, gravitational wave interferometers, experiments to derive neutrino properties and direct dark matter searches as well as dark energy surveys.
In the first half of 2015 APPEC is organizing a second global neutrino conference at Fermilab, a Technology Forum on low-level light detection in Munich, and a cosmology workshop in Florence.
1 APPEC is a consortium of European funding agencies and institutes responsible for the coordination and funding of astroparticle physics.
2 National Institute for Subatomic Physics (Nikhef) is a collaboration between Stichting voor Fundamenteel Onderzoek der Materie (FOM), Universiteit van Amsterdam, Vrije Universiteit Amsterdam, Radboud Universiteit Nijmegen and Universiteit Utrecht.
3 Laboratoire Astroparticule et Cosmologie (APC) is a mixed unit of IN2P3/CNRS, University Paris Denis-Diderot, Commisariat d'Energie Atomique and Observatoire de Paris.
4 Deutsches Elektronen-Synchrotron (DESY) is a national research center in Germany that operates particle accelerators. It is a member of the Helmholtz Association and has sites in Hamburg and Zeuthen.
5 AStroParticle European Research Area (ASPERA), a network of national government agencies responsible for coordinating and funding national research efforts in astroparticle physics, was financed by the European Commission (2006-2012).
6 ASTRONET, a consortium gathering European funding agencies in order to establish a comprehensive long-term planning for the development of European astronomy, has been financed by the European Commission since 2005.
7 European Committee for Future Accelerators (ECFA).