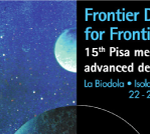 15th Pisa Meeting on Advanced Detectors
Date/Time
22/05/2022 - 28/05/2022
All Day
The meeting is focused on reviewing the progress in advanced detectors for high energy and astroparticle physics , with emphasis on application in future experiments.
This meeting is the fifteenth of a series initiated in Tirrenia in 1980 and continued in Castiglione della Pescaia and La Biodola. It is sponsored by the Istituto Nazionale di Fisica Nucleare (INFN), the Società Italiana di Fisica (SIF), the European Physical Society (EPS), the University of Pisa, and the University of Siena. 
The meeting was originally planned for 2021 and retains the PM2021 acronym even if it takes place in 2022. It is planned in person, although live streaming will be available. Interested participants are invited to pre-register starting from December 1, 2021 from the conference website.