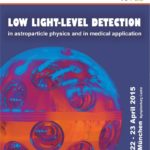 APPEC Technology Forum 2015
09 April 2015
Carl Friedrich von Siemens Foundation Nymphenburg Castle, Munich, April 22/23, 2015
The Astroparticle Physics European Consortium APPEC invites technology experts from industry, project scientists and funding agencies representatives for the APPEC Technology Forum 2015. This ATF 2015 is targeted at the astroparticle physics projects' demands in key components needed to build low light-level cameras and detectors.
The ASPERA Technology Forum in 2010 was one of the drivers for advances in photosensors and auxiliary electronics. Since that time dedicated R&D has led to substantial improvements of the photomultiplier tube technology. Continuous developments of the upcoming SiPM devices helped overcoming major drawbacks, so SiPMs may become a mass product in the near future.
A new approach, to use optimised matrixes of SiPM with a fully-integrated readout chain, would radically simplify building imaging cameras with single photon sensitivity for astroparticle physics projects as well as for medical applications. Projects scientists show in-depth presentations with technical details of camera and detector designs and required key components. Further information is given on project timelines, required R&D, technology decisions, funding, procurement and construction plans.
Technology experts from industry are invited to present their latest products fitting the needs of astroparticle physics projects. Challenges in optimizing current technology and manufacturing of key components in quantities and qualities required by astroparticle physics projects shall be addressed.Funding agencies representatives are invited to present their position in view of the realization of coming astroparticle physics projects and of a closer R&D cooperation between academia and industry.
ATF 2015 shall provide the frame to discuss with all stakeholders a fostering of R&D activities, possibilities for standardization and device integration to reduce development and production costs.
Contact:
+49-40-89984312 (Katharina Henjes-Kunst)
+49-40-89985369 (Sandra Hesping)
+49-40-89982537 (Thomas Berghöfer)