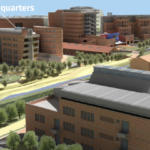 CTA Council selects headquarters site
14 June 2016
The governing body of the Cherenkov Telescope Array Observatory gGmbH (CTAO gGmbH) has selected Bologna as the host site of the CTA Headquarters. The CTA Council further selected Berlin – Zeuthen for the Science Data Management Centre (SDMC) from five site candidates.
The Council, composed of shareholders from nine countries (Austria, Czech Republic, France, Germany, Italy, Japan, Spain, Switzerland and the United Kingdom) in consultation with associate members (Netherlands, South Africa and Sweden), announced the decision in Munich following the consideration of all of the proposals.
"We are grateful for all of the proposals put forward by the applicants. While each of the candidate sites were suitable options, the Council is confident that Bologna and Zeuthen will be well-equipped to support CTA's long-term operations," said Ulrich Straumann, Managing Director of the CTAO gGmbH.