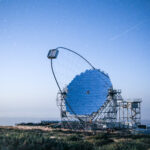 CTA Prototype LST-1 Detects Very High-Energy Emission from the Crab Pulsar
Between January and February 2020, the prototype Large-Sized Telescope (LST), the LST-1, observed the Crab Pulsar, the neutron star at the centre of the Crab Nebula. The telescope, which is being commissioned on the CTA-North site on the island of La Palma in the Canary Islands and which just passed its Critical Design Review, was conducting engineering runs to verify the telescope performance and adjust operating parameters.
Pulsars are very rapidly rotating and strongly magnetized neutron stars that emit light in the form of two beams, which can be observed from Earth only when passing our line of sight. While detecting the strong and steady emission or outbursts of gamma-ray sources with Imaging Atmospheric Cherenkov Telescopes (IACTs) has become routine, pulsars are much more challenging to detect due to their weak signals and the typical dominance of the foreground gamma-ray signal from the surrounding nebulae. Despite hundreds of observations hours by IACTs around the globe, only four pulsars emitting signals in the very high-energy gamma-ray regime have been discovered, so far. Now that the LST-1 has shown that it can detect the Crab pulsar, it joins the field of telescopes capable of detecting gamma-ray pulsars, validating the timestamping system and the low-energy performance of the telescope.
For more details read the full press release and the news item on the CTA website.