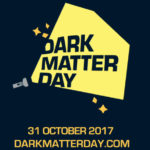 Dark Matter day 2017
On Tuesday 31 October thousands of people from all over the world joined in a global celebration of dark matter, one of the biggest mysteries of our Universe.
On Dark Matter Day 24 countries marked the day with events. 
Dark matter is a huge part of the Universe that scientists' calculations tell us exists, but that has never been observed. Yet, together with dark energy, scientists believe it makes up 95 percent of the total universe. What we can see, and the matter that scientists can account for is just five percent of the Universe, the rest is a mystery. 
To highlight the international effort to find dark matter, Dark Matter Day was created by the Interactions collaboration, a global network of particle physics communicators.
Events were held all over the world, in the US, Canada, France, Brazil and Norway to name a few.
All in all, Dark Matter Day was a huge success, leaving behind a legacy of greater understanding of and appreciation for dark matter research and with many on the hashtag #darkmatterday on Twitter calling it the new Halloween!
Will we do it all again next year? Watch this space.
Don't be afraid of the dark!