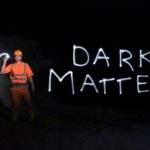 Don't be afraid of the dark this Halloween
This Halloween, get ready to visit the dark side – but there is no need to be afraid, as it is actually a global celebration of science.
Dark Matter Day returns for a second year giving people all over the world the opportunity to celebrate Halloween in a different way. A series of Dark Matter Day events, which highlight the global search for the elusive dark matter, will be held in person and online throughout the day on October 31.
Did you know that everything we see in the universe accounts for only 5 percent of all matter? The rest is a mysterious and as-yet-undetectable substance known as dark matter that, together with dark energy, makes up about 95 percent of the mass and energy in our universe. Dark matter is everywhere, and yet so far we know very little about it, even though there is overwhelming evidence that it exists.
Universities, laboratories, and institutions around the world have announced Dark Matter Day-themed events explaining what we do know about dark matter, but also talking about how much we have yet to learn.
Find out more, or take part in Dark Matter Day events near you or online, around the world.