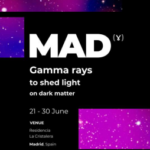 ISAPP Madrid School on Gamma Rays to shed Light on Dark matter
— CANCELLED/POSTPONED, please check the website of the event for further information —
The ISAPP school on "Gamma rays to shed light on dark matter" will happen in Madrid between 21-30 June, 2020.
The purpose of the School is to offer a general overview of the state-of-the-art of gamma-ray dark matter searches and it is primarily aimed at students at the MSc and PhD level, as well as young postdocs working in the field.
Being an ISAPP school, it will closely follow the same format and spirit of previous ISAPP schools across the world.
The program will include introductory lectures on Astrophysics, Cosmology and Particle physics, as well as a series of more specific lectures on each of the main topics. It will also provide the students with some of the most useful computational tools in the field, by running a few hands-on sessions on specific yet quite standard dark matter work packages.
More information is available here: https://workshops.ift.uam-csic.es/isapp2020madrid