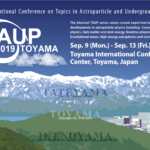 TAUP2019
The 16th International Conference on Topics in Astroparticle and Underground Physics (TAUP2019) will be held at the Toyama International Conference Center, Toyama, Japan, on September 9-13.
The biennial TAUP series covers recent experimental and theoretical developments in astroparticle physics by invited plenary review talks and parallel workshop sessions of invited and contributed presentations. The conference is hosted by ICRR, The University of Tokyo, and supported by Kavli IPMU, The University of Tokyo and University of Toyama.
Cosmology and particle physics
Dark matter and its detection
Neutrino physics and astrophysics
Gravitational waves
High-energy astrophysics and cosmic rays
Registration will be open until August 8, with early registration until June 30.
The deadline for submitting parallel session and poster presentation abstracts for TAUP2019 has been extended to May 31, 2019.
For more information, please go to the website http://taup2019.icrr.u-tokyo.ac.jp/