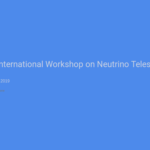 XVIII International Workshop on Neutrino Telescopes
From 18-22 March 2019 the
Neutrino Telescopes Workshop
takes place in Venice, Italy. The workshop dates back to 1988 when the first edition was launched. Latest discoveries and the fascinating future scenarios in topics that range from Neutrinos to Astrophysics and Cosmology are discussed. The 2019 edition will focus to the original argument of the workshop: Multimessenger Physics.
The XVIII International Workshop on Neutrino Telescopes is organized by the INFN Padova Unit and by the Physics and Astronomy Department of Padova University.
Registration is still open until March 8th, Poster Abstract Submission is open until February 22nd.
More information: https://indico.cern.ch/event/768000/
Contact: salente@pd.infn.it